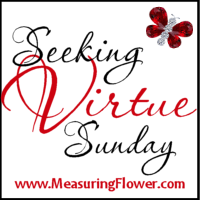 This blog hop is for all Christian ladies, whether you're single, married, widowed, divorced, a mom, a grandma, an aunt...all born-again Christian lady-bloggers are openly invited to participate.
My post is Mustard Seed Faith...
"And Jesus said unto them ... , "If ye have faith as a grain of mustard seed, ye shall say unto this mountain, Remove hence to younder place; and it shall remove; and nothing shall be impossible to you." Matthew 17:20
Mustard seed faith.... how can you have the faith of a tiny mustard seed?
Faith is being able to believe in what you cannot see, what you cannot touch....
Growing up I wore a braclet with a tiny mustard seed enclosed inside a glass locket, it was a reminder that faith is strong, faith is pure, faith is everlasting.
The tiny mustard seed empowers your faith, gives you hope, moves mountains....
Be like the tiny mustard seed.... have faith to move mountains...