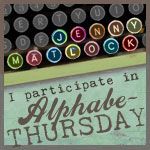 Don't forget to stop by and link up!
Since I wrote about him last week, I've decided to tell you more about my grandson.
His full name is Nicholas Cameron Ray.
He turned 7 on March 17th(which makes him a St. Patrick's Day baby)
I'm Irish, so we are truely blessed.
I told my daughter he would be born on that day.
He loves Sponge Bob, motorcycles, firetrucks and so much more.
He loves to eat Goldfish.
He doesn't like traditional birthday cakes...his last cake was Harley Davidson.
He's also in special class because he is autistic, but he's smart as a whip.
He love's to make up stories(I guess he'll be a writer just like his mawma.)
But the best thing about my grandson is how he's blessed my life.