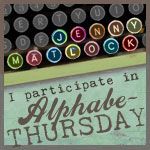 Welcome to round three of Alphabe-Thursday!

Today we will be observing all aspects of the letter: A
A is for author
Today's letter is A and I've chosen the word author and to write about my favorite A author's.
Of course she is well known for 'Little Women' and 'Litte Men', but one of my favorite's
A is for Louisa May Alcott author
of A Modern Cinderella.
His works are a must read to understand what he went through during his life.

A is for William Apess author of An Indian's Looking-Glass for the White Men.
Author's are a very important part of my life. I love to read and I love to write.