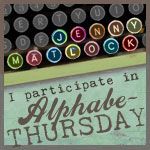 I stumbled upon this great meme hosted by Jenny Matlock @
off on my tangent
called Alphabe-Thursday. So today I'm linking up with my letter which is Z...
Z is for Zany Pants...
Zany Pants is AKA my grandson.
He's a zany as they come, but he's ony 7!
Tonight he'll preform in his first school play. He is going to be a firefly and he'll have two lines.
Because is is a zany character, I'm praying he gets through without cracking up or doing something zany.
So today I salute my Zany Pants AKA my wonderful, zany grandson whom I love and adore.