Friday, September 30, 2011
Wednesday, September 28, 2011
Posted by Debra Ann Elliott at 6:41 PM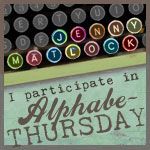 Today is Alphabe-Thursday and the letter today is
For today's word I've chosen xenia...
Xenia (Greek: ξενία, xenía)
is the Greek concept of hospitality, or generosity and courtesy shown to those who are far from home. It is often translated as "guest-friendship" (or "ritualized friendship") because the rituals of hospitality created and expressed a reciprocal relationship between guest and host.
Xenia consists of three basic rules:
1. The respect from host to guest. The host must be hospitable to the guest and provide them with food and drink and a bath, if required. It is not polite to ask questions until the guest has stated their needs.
2. The respect from guest to host. The guest must be courteous to their host and not be a burden.
3. The parting gift (xenion, ξεινήιον) from host to guest. The parting gift is to show the host's honor at receiving the guest.
Xenia what an awesome X word, unfortunately people don't celebrate the art of hospitality as was practiced when I was growing up in the sixties. I can remember sitting on my grandmother's front porch and living in the South you didn't meet a stranger.
You showed kindness to everyone. You practiced xenia.
Today's society is in a rush, in a big hurry not to slow down. Hospitality is a dying form. With the way the world is today xenia needs to be revived. It needs a transfusion....
Even in the South hospitality is a dying breed. What ever happen to the Golden Rule? Did we shove it aside to make room for greed and hate?
Xenia (hospitality) can be revived with help from several scriptures in the bible.
The Golden Rule: Therefore all things whatsoever ye would that men should do to you, do ye even so to them: for this is the law and the prophets. Matthew 7:12
The second is this: 'Love your neighbor as yourself.' There is no commandment greater than these." Mark 12:31 NIV
Do not forget or neglect or refuse to extend hospitality to strangers [in the brotherhood--being friendly, cordial, and gracious, sharing the comforts of your home and doing your part generously], for through it some have entertained angels without knowing it. Hebrews 13:12 AMP
The list goes on, because the bible is filled with verses on hospitality....
When you start you day think about how you want to be treated and how you should treat others...
Show a lot of xenia!
Don't forget to stop by
Jenny Matlock's Alphabe-Thursday
this week and so some hospitality to all the great bloggers.
Friday, September 23, 2011
Thursday, September 22, 2011
Wednesday, September 21, 2011
Tuesday, September 20, 2011
Monday, September 19, 2011
Sunday, September 18, 2011
Saturday, September 17, 2011
Friday, September 16, 2011
Thursday, September 15, 2011
Wednesday, September 14, 2011
Tuesday, September 13, 2011
Saturday, September 10, 2011