Today is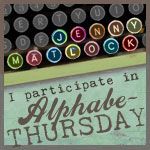 Thursday means it's time to visit Jenny Matlock at …off on my tangent… for Alphabe-Thursday.

Today's letter is W. There are a lot of words that begin with W. Writing for instance, but I've chosen not to write about writing. Instead, I'm going to write about words. Words are very powerful creatures.
I remember from childhood the ditty "Sticks and stones can break my bones, but words can never hurt me."
That's not true. Words are mightier than a stone. They can cut through you in an instant. Words form who you are, what you become. Words change your life....