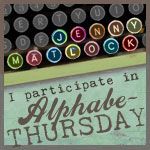 Alphabe-Thursday is hosted by
Jenny Matlock
. I haven't participated in a while, so I'm jumping back in and getting my feet wet. The letter of the day is V. My word is visualize.
to see or form a mental image of...
I love this word. It is especially important in writing. When you write, of course you want to show and not tell. Visualization is an important tool in this process. If you can't visualize your characters, then how can you expect your readers too see what your see.
I have a proclivity of falling into the 'tell trap' and not show my readers what I visualize. You have to use the senses of smell, taste, hearing and feeling, and sight.
What smells can your reader visualize(yes, readers visualize smells!)? How can your MC describe what something taste like(a juicy melon, a vanilla coffee). Invoke images of taste.
Hearing is another important visualization tool. When your MC hears a noise, make your MC visualize that noise(a glass shattering, a slamming door...). How does something feel in your writing? I recently learned this lesson the hard way in one of my writing projects. I learned as a writer you just can't decribe something with one word, you have to use several descriptive words to bring an object to life, to make your reader visualize it.
And now the most important visualization tool: sight...
Your reader has to see what you wrote. Show, show, show...bring your characters to life. Don't tell their story, show their story.
Visualize what you want to write...