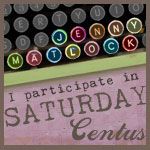 Saturday Centus is hosted by
Jenny Matlock.
Today's prompt is based on this piture.
PROMPT: 100 words based in this bizarre picture
WORD COUNT - Not to exceed 100
STYLE OF WRITING - Any
PICTURES - Any additional
The Eyes Have It

"Green, no wait blue maybe." I can't remember the color of his eyes. I do remember how they pierced through my soul with a desire so strong my heart exploded into tiny shards.
It's been five years since I saw those eyes. I could feel them watching me, tearing down the wall I had built around my heart. I shuddered knowing what those eyes were capable of doing to me.
I tried to make my escape, but I was caught in his seductive web. His gaze clamored for my attention. A single tear fell from eyes filled with golden fire.